Local 850 participates in an annual Fill The Boot Drive to raise money for the Muscular Dystrophy Association. Keep your eyes open for our members in East Providence roadways collecting donations.
After the culmination of the 2018 Fill the Boot Drive East Providence FireFighters IAFF Local 850 raised
$15,000.00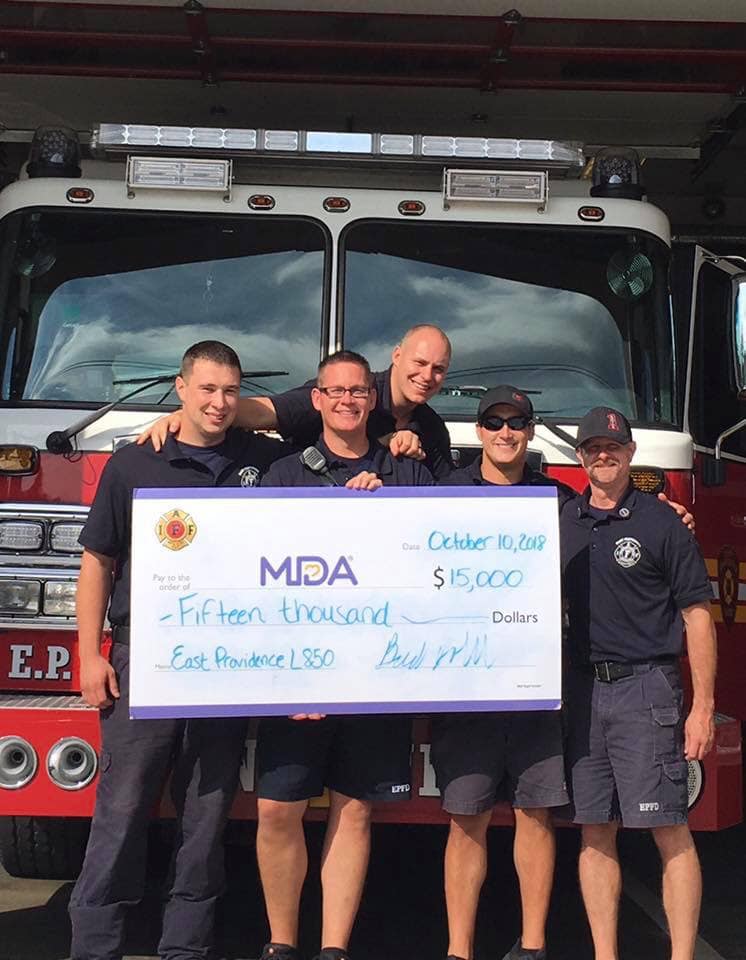 to donate to

Since 1954, IAFF has supported MDA with unwavering drive and relentless passion.
Because of your support, three new drugs for neuromuscular diseases have been recently approved, and more are expected in the next five years than in the past five decades. These treatments are life-changing for MDA families where walking, talking and even breathing can be difficult. This could not have been done without IAFF fire fighters like you.
We're proud to have the IAFF as our largest national partner and are thankful for the thousands of fire fighters who have participated in Fill the Boot drives across America, as well as those who have volunteered countless hours at MDA Summer Camps.
And until a cure is found, we'll be filling those boots together.
"For more than 60 years, our members have been working hard for MDA, filling the boot on behalf of this great charity. They know that what they do truly makes a difference in the lives of so many. Until there is a cure, we plan to continue the partnership." - IAFF General President Harold A. Schaitberger
Find Out More At
https://firefighters.mda.org/
Page Last Updated: Nov 17, 2018 (07:19:09)